After almost 2 years of sloth-like hibernation, I'm finally working out again! Yes, I signed up for a Gold's Gym membership. Hooray!
A few months ago, however, I purged the closet and gave away most of my workout clothes. (They didn't fit anymore, and going back to the gym was a remote possibility.) So now I have very few outfits. Plus Patch has taken possession of my gym bag and shoe bag.
Hence this list. 😀 I really don't want a lot of other stuff, just gym and fitness stuff. If there's anyone out there who's interested in knowing what I'd want for Christmas, here are some ideas! Besides, I've never written a blog post about it ever. So please indulge me?
First, the essentials –
Gym clothes – shirts, pants, capris. Oh yeah, a sports bra too. Anything comfortable, as long as it's my size. (Please send me  a private message to know my size, ssshhhhh!)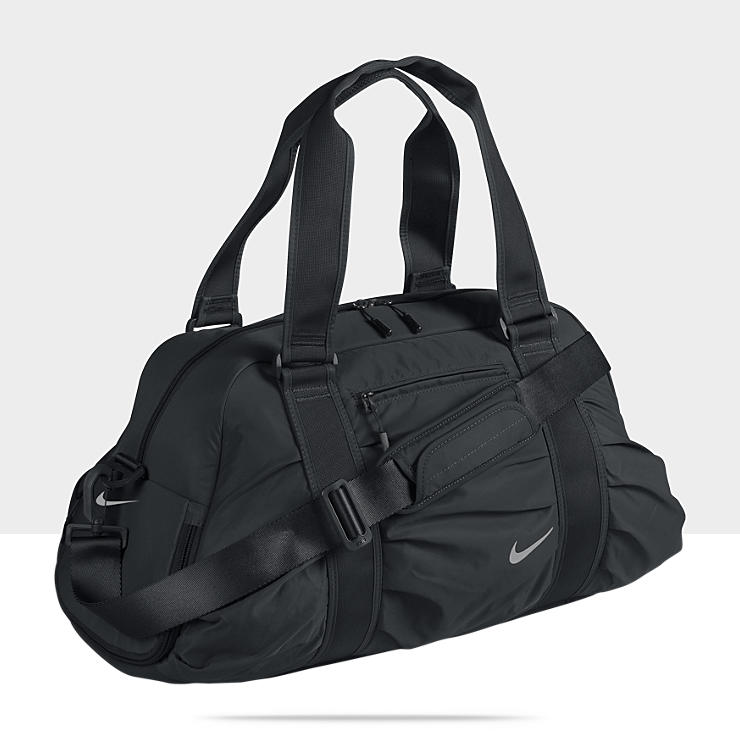 Gym bag – I badly need one. Not necessarily like this Nike bag, but something like it. Not too utilitarian, but not too girly. Not too big, just big enough to hold a change of clothes, a towel, toiletries, a water bottle, maybe a pair of trainers. But I prefer not to mix my shoes with clothes so…
Shoe bag. I don't necessarily want these chevron shoe bags that I found at Cityist.com, but I thought I'd post the photo because they're so chic. Again,they're neither girly nor utilitarian. But any functional shoe bag will do for me! 😀
Running shoes. My Asics running shoes (which I also use for training) turns 3 years old in February next year. Though I'm not ready to retire it yet (still in good condition but I'm sure some of its cushioning features have diminished), I think it's time for a new pair.  (Hub, are you reading this?)
I want a pair of runners instead of trainers because, ahem, one of my fitness goals is to run a 10-k race by Q1 2013. Asics tops my list because it has proven to be a very reliable brand.
The science behind Nike Free is interesting, and I'd like to experience it myself.
Nike Free shoes are specifically designed to let your feet move more naturally and freely than traditional athletic shoes. Over time, this helps make your feet stronger. But because you'll be using some muscles in your feet more than you might be used to, it may take some time for them to get used to all that freedom. To give your feet time to adapt, we recommend you transition into using your Nike Free footwear gradually. (From Nike Free)
Armband. I like to workout with music, but the audio is usually off during the dead hours that I go to the gym. Because I've yet to get an armband, I have been working out in silence or, worse, along with the noise of loud gymfolk. Ugh.
But a run pouch seems like a better idea than an armband, since I own an HTC phone and it could be hard to look for that kind of armband. A run pouch can hold my mobile phone, keys, cards and cash. I like this Stella McCartney run pouch from Adidas. But, hey, any functional run pouch will do! 😛
So there – my fitness gear wish list! *hint, hint*
~~~
I wonder what to get Parker this year. Parker is our golden retriever and, yes, he gets a Christmas present too. Last year I got him a box of bacon treats. This year…. hmmm.  I will go check groupon buying sites and pet forums for ideas.